Black to Broadway Other Events
Here you will find information on some of our other past Black to Broadway events.
Curtain Up – It's "Play" Time
September 18, 2021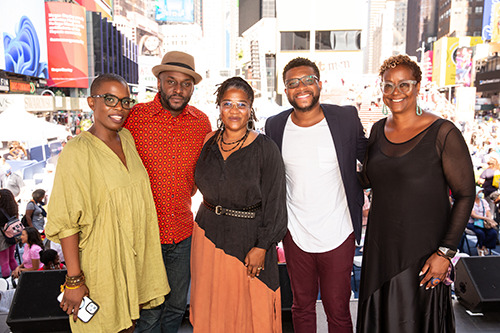 Black to Broadway – It's "Play" Time was a panel event that took place on September 18, 2021, at the Curtain Up! Celebration in Duffy Square.  As Broadway performances resumed following the global pandemic and social reckoning that have taken place over the past 18 months, no less than eight productions of plays by Black playwrights opened in the fall of 2021—including four by Black women. In this entertaining and informative live conversation, we got to know some of the writers, directors, and performers who brought these works to Broadway stages. Participants (pictured above left-to-right, photo by Jeremy Daniel) included playwrights Antoinette Chinonye Nwandu (Pass Over), Keenan Scott II (Thoughts of a Colored Man), Lynn Nottage (Clyde's) and Douglas Lyons (Chicken and Biscuits). Harriette Cole (pictured above at right), the nationally renowned lifestylist, and branding coach and Dreamleapers founder, moderated the event.
Kick-off Event
October 2019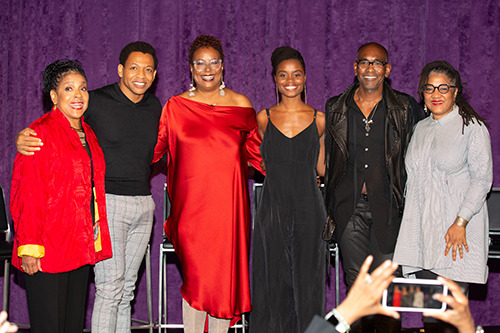 Our invitation-only kickoff event in October, 2019 drew more than 200 African American leaders and influencers to the National Geographic Encounter in Times Square. Attendees included community leaders, social media experts, restaurateurs, and board members of dynamic organizations, as well as Broadway personalities. Jelani Alladin served as master of ceremonies, and Harriette Cole (pictured above third from left, photo by Jeremy Daniel) moderated a panel discussion with (pictured above left-to-right) Phylicia Rashad, Derrick Baskin, Denée Benton, Paul Tazewell, and Lynn Nottage. Prominent local Black-owned restaurants provided food and drink.