Broadway Membership Fellows
In 2021, The Broadway League's Membership Committee developed a new category of League Membership – Fellow Membership – designed to afford access and benefits to upcoming professionals who will diversify our industry by representing diversity of background, ethnicity, experience, and views. This category will provide Associate Membership-level access to our trade association at no cost for two years.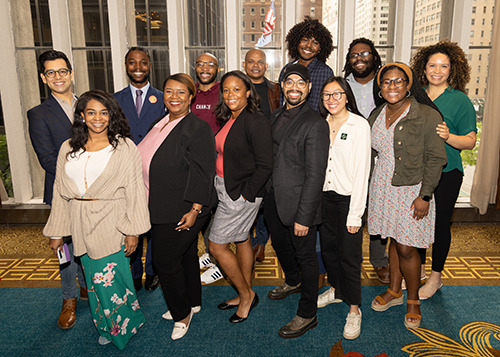 A key element of the Fellow Membership is the Mentorship Program. The goals of this program are two-fold. The first is to provide Fellow Members with necessary support and guidance as they continue to advance their careers and develop their projects. The second goal is to provide Full and Lifetime members with the opportunity to connect with emerging professionals and share their insights and experiences on how best to navigate the industry.
In this first year, each Fellow has been paired with a mentor of their choice, chosen from a list of participating Full and Lifetime Members. This mentor is from their own area of focus. The following year, each Fellow will be paired with another mentor, this time from a different area of focus.
Read more about membership at The Broadway League.
Pictured above: The Broadway Membership and Black Theater Coalition Fellows at the 2022 Spring Road Conference. Photo by Jeremy Daniel.